When it comes to having the best tools, no reputable mobile enhancement installer would turn away the chance to buy one of the last sets of Snap-On E710BCG Electronic Service Pliers. While hand tools that are comfortable and work well are crucially important to efficiently completing the installation of a remote car starter or security system, having accurate information is equally important. The time saved by having the wire color and function information supersedes all the fun you could have on the Snap-On truck. Understanding this is key to appreciating the need for resources like ProDemand from Mitchell1.
Access to Accurate Information is the Best Tool
We spoke with Michael Abeita, one of the technical support agents at Firstech, about his thoughts on ProDemand and its importance to retailers. Michael holds his MECP Master and ASE A-6 Electrical Technician designations and has a wealth of knowledge and experience to back up his certificates.
Michael pointed out that access to information is as important to retailers as it is for solution manufacturers like Firstech. If a technician has tested a wire and it isn't functioning the way it should, he can quickly and easily look it up in ProDemand rather than having to call the support team. In the middle of remote car starter season, this could save at least five to ten minutes.
Are You Speakin' My Language?
Another interesting perspective Michael offered relates to installers and support agents using the same terminology to describe components, connectors and the function of wires. This symmetry not only reduces the chances of miscommunication but can speed up the entire troubleshooting process.
Michael added that using the same terminology that the vehicle manufacturers use adds to the technician's credibility when talking to a client or someone at a dealership.
Information Beyond Wiring and Schematics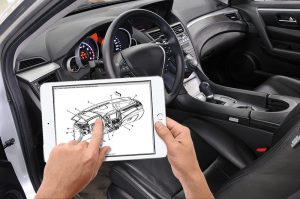 Another important feature of ProDemand is the sheer amount of information provided to technicians. Sure, there are easily traceable wiring diagrams, information about vehicle assembly and disassembly, system descriptions and programming procedures available for many applications. ProDemand also includes maintenance data, recall and TSB information — information that can directly affect the performance of a remote car starter.
Prepare Your Team for Remote Car Starter Season Now!
If you work in the mobile enhancement industry and are interested in adding ProDemand from Mitchell1 to your arsenal of tools for this coming remote car starter season, contact the team at 1sixty media today. We'd be happy to explain the program structure and pricing. We'd tell you that we think it's a great investment, but we don't have to: Michael Abeita already said it is!