When it comes to information, an installer or technician working in the mobile enhancement industry simply can't have too much. There's no denying that Directechs is a phenomenal resource for remote start and security system installations. If your store sells Viper, Clifford, Autostart, Avital or Python products, then you know the benefit of this information only too well. Even with access to Directechs, Mitchell1 ProDemand can give your business a crucial edge and increased efficiency. Let's look at what's behind ProDemand.
What Does Directechs Offer?
If you're installing a remote starter, keyless entry system or a security system, then Directechs was made for you. The database has wire color and location information for thousands of vehicles, and it's organized to make the convenience system upgrade efficient. Directechs also offers good information on audio system wiring in the event you're replacing a radio.
ProDemand Offers Complete Wire Color Code Information
ProDemand offers complete wire color code information. If you need to know the pinouts for a factory-installed backup camera, the overhead Bluetooth mic or the colors for ANC microphones, it's all there.
ProDemand is designed for automotive technicians who might work on any aspect of the vehicle – from audio, lighting and convenience to safety or engine management system wiring. Full wiring diagrams, along with connector pinouts and their locations, are a fundamental part of what makes ProDemand unique.
Interactive Wiring Diagrams Make ProDemand Essential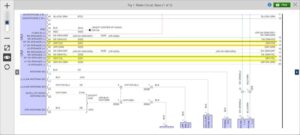 Unlike other information services, ProDemand has invested hundreds of thousands of hours in redrawing the vehicle wiring diagrams they provide to make them fully interactive. If you need the CAN and ANC connections to a factory-installed amplifier, you can click on them and highlight the wires. Information for other connections is grayed-out so you can work more efficiently.
ProDemand Provides Component Location and Access Information
Has a vehicle ever rolled into your shop for an upgrade and your tech lost 30 minutes or an hour looking for a factory-installed amplifier or ANC module? Having a subscription to ProDemand would have prevented that. You can search for the location of modules, and ProDemand includes detailed disassembly and reassembly instructions that include fastener locations and even torque specifications for larger hardware. This information not only ensures that your client's vehicle is safe once you're done, but it effectively eliminates the chance of a technician breaking a panel because a screw or clip was missed.
Another benefit of ProDemand is that the system shows where wiring and cables start and stop, and what path they take through the vehicle. You can decide where the best location is for a connection to optimize your efficiency.
Get the Information You Need Fast with ProDemand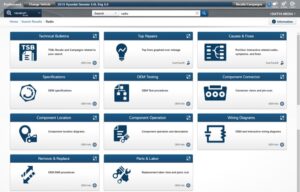 Has anyone on social media ever told you to Google something to find an answer? ProDemand hears you and has you covered with 1SEARCH. Looking for radio information for a vehicle, enter "radio" and 1SEARCH will flood you with component location, wiring information, remove and replace procedures and much more.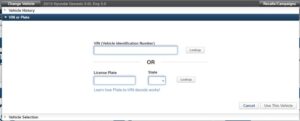 Another feature that makes ProDemand a crucially important tool is the ability to search for information based on the VIN. There's no guessing about a model year, trim level or if the vehicle is a Canadian or US platform. The information provided to you is precise and accurate so you can get to work quickly and efficiently.
ProDemand Saves the Day With Technical Service Bulletin and Recall Information
Is your client complaining about odd behavior from an unrelated system after you upgraded their vehicle? ProDemand is connected with all the major automakers and includes accurate and timely updates on Technical Service Bulletins (TSBs) and Service Campaigns, as well as Safety Recall notices. You can access this information directly from the vehicle search bar.
Upgrade Your Efficiency with ProDemand from 1sixty8 media
If optimizing the profitability of your business is important to you, reach out to the team at 1sixty8 media to inquire about adding ProDemand from Mitchell1 to your arsenal of tools. Just as a multimeter offers infinitely more information than a test light, ProDemand is a professional solution for those who are serious about world-class customer service and shop efficiency. The resources included in ProDemand will pay for themselves over and over again.
To learn more about 1sixty8 media's exclusive discount program for mobile enhancement retailers, please visit our Dealer Discount Page.