1sixty8 media isn't a website development company: We are marketing solution provider. At the core of our business philosophy is a drive to deliver products and services that make our clients' lives easier and their companies more successful. From the sophisticated websites we create to the timely and relevant information we publish, everything we do helps tell our clients' story. If you are looking for a business partner that can make your life easier, here are just a few of the advantages of working with 1sixty8 media.
A Real Marketing Company
When we created this article, the 1sixty8 media team included 18 members divided among several different teams: Content, Development and Design. We operate as a business. We are not a group of hobbyists. We have a CEO, COO and department managers with defined job titles and clear responsibilities.
We value the trust our clients put in us, and we create agreements to ensure we deliver on our promises. We use advanced automated processes to make sure we handle each task, however minute, professionally and efficiently. We use a licensed help desk system to record and process client requests and solve any issues quickly. This process-based philosophy continues behind the scenes to ensure efficiency and accountability in everything we do.
We Are Mobile Enhancement Industry Experts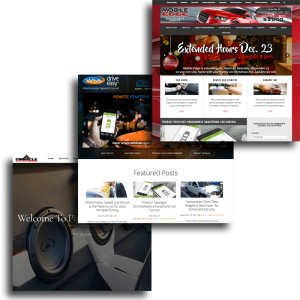 A key to our success is our team of industry experts. More than half of our team works in the mobile electronics industry. We have storeowners, world-class installers, technical trainers, product development experts and sales representatives who understand your business and speak your language.
The benefit of working with a like-minded team extends beyond using correct terminology in the content we create for you. We can provide suggestions for new articles, new products and even new business categories that will enhance your profitability. When we say we partner with our clients, we mean it.
Professional Services with Professional Results
There are many ways to create a website. You can log on to GoDaddy, Wix or SiteBuilder and start piecing together ideas, content, layout and visual assets to create a presence for your company. Alternatively, you can hire a team of professionals to do that work for you, freeing up your time to keep on doing what you do best: running your business.
A website is much like a properly designed and installed mobile sound system. Not only does the system need to look and sound great, but all of the equipment and components need to be installed and configured properly to ensure reliability.
Collaborating with 1sixty8 media is a unique experience. Our commitment to quality products dictates that everything we do, we do the best way possible. From the server we use to host your website to the content we publish for you, everything needs to be of the highest quality.
Let's have a look at a few of the things that define 1sixty8 media and separate us from our competitors:
Secure Sites – We install an SSL Certificate on every client website we build. Having a secure website sends a clear message to potential clients that you take your marketing efforts seriously. While most websites continue to function without SSL Security, Google acknowledges and rewards your dedication to your clients' Internet safety with improved search ranking results.
Fully Licensed Software – The websites we create run on a fully licensed software platform. Likewise, we purchase software for site features including image galleries, mailing lists, content analysis and much more. Proper licensing gives us access to updates that improve reliability, interoperability and performance.
Lightning-Fast Load Times – How quickly your website loads is critical for a quality user experience. Additionally, search engines love fast sites. We optimize each website to load quickly and efficiently on any device or platform.
Licensed Images – Too many people fail to acknowledge the legal ramifications of using unlicensed content. When we add a photo to an article, our clients or product manufacturers provide the images, we create them or we purchase them from a stock photo service. We don't google images and steal them from their rightful owners.
Mobile-Friendly Design – The websites we create work just as well on a smartphone or tablet as they do on your laptop or desktop computer. As web traffic from mobile devices continues to increase, having a website that offers easy navigation from portable platforms isn't just a great idea, it's a requirement.
Google-Friendly Content – We are not an SEO company. We specialize in providing our clients with content that is directly relevant to their business. With that said, we most certainly optimize the content we create so that potential clients find your website using search engines like Google, Bing and Yahoo.
Proofreading – We have a team dedicated to proofreading the content we publish. Once the wordsmiths on our content team have finished creating each masterpiece, the article goes through three stages of review to ensure that spelling and grammar are correct and that the content itself is timely and accurate. The result is information that helps position you as a professional and an expert in your trade.
Graphic Design Services – It is important that your website works well and looks fantastic. Our graphic design team works with our developers to make sure that we convey your brand image with style. When they aren't working on a new website, the team is available to help anyone with a la carte projects. If you are looking for a brochure, business card, logo or banner of any size, let us know.
1sixty8 media Saves You Time
As we mentioned, most people could conceive, create and launch their own website, given enough time. Do you have the time to invest in learning the intricacies of website development, content creation, graphic design, proofreading and publishing? Our team includes experts in each of these disciplines. For our clients, we employ simple-to-use processes to streamline the addition of new and fresh content. We take care of everything. You can get back to work serving your clients.
We Bring Out the Best in Your Company!
Using our experience and training, 1sixty8 media doesn't just build websites that look great, we build a marketing platform that continues to deliver ongoing results. We understand the mobile enhancement industry and the daily trials of running a successful retail business. If you own or run an mobile enhancement facility and are looking for a marketing partner to design, build, manage and populate the content on your website, get in touch with us. We'd be happy to help!