Quality content should be considered the foundation for any successful online presence, and really, for any successful company. Well-written engaging content that is pertinent and relevant to your audience will be read more often by website visitors, and can become reference points and supporting statements to help your sales team close a sale.
A website can have a great look and sensible navigation, but with mediocre or outdated content within the site, there isn't a good reason for someone to spend any amount of time there, much less come back to it in the future.
Keep it Fresh for Your Visitors
One important consideration in content creation is to keep doing it on a regular basis. Many web developers will create your website and then hand it over to you at launch. Once the site is up, it often gets forgotten about. Adding new and engaging content is a task that has to be done on a regular basis. When it doesn't happen, the result is a stagnant feeling to the site.
Just as important, changing the content regularly will also grab the attention of a previous visitor and will cause them to explore your site a bit deeper.
Keep it Fresh for the Search Engines
Search engines love new content on your site as well. Soon after publishing new content to your website, the search engines will crawl some or all of your site. This is an opportunity to improve your search engine results positioning. More articles also means more key words, which can improve the breadth of visitors you can attract. Quality content is important because simply putting up irrelevant and poorly written content can penalize your results.
Different Subjects Attract Different Readers
Articles about new technology, new products or services your company offers, or an event at your location can help educate your customers and attract a new type of customer to your business.
Posting an article about Apple CarPlay and what it can do to improve driving safety, for example, can attract a customer looking to solve that particular issue, while simply posting an article about a new source unit your store carries that has CarPlay capability may not. Both talk about CarPlay, but each is likely to attract completely different crowds. Both have a real place in your content foundation, and should be used individually to attract both sets of people.
Your Engaging Content Will Make An Impression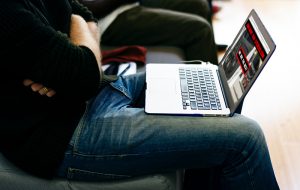 It's important to remember that unchanged content makes a website seem stagnant and neglected. Keep in mind that your site is sometimes the only impression a potential customer may have of your business.
Would you say that technology has changed at all in the last year? New phones are out, new apps are popular and there are new streaming services for listening to music. If your website isn't responding to these innovations, you could potentially lose prospective clients.
If your website content has not been updated in years, which happens more often than most would admit, you can understand how outdated and possibly irrelevant it could be. Just think of all the technology developments that have been missed! Even more importantly, think of the customers who may have been searching for a local expert to guide them on choosing a modern technology, took one look at your site and thought you couldn't possibly help them because information about that technology wasn't anywhere to be found. This is a missed opportunity.
It's Worth the Effort
The most common excuse for not updating content on a website is that there simply isn't enough time to get to it in your day because you are so wrapped up in work. While it's great that you are busy, don't discount the fact that keeping your content fresh, exciting and up to date could keep your business covered in work long-term, which pays dividends many times over.
1sixty8 media Frees up Your Time
Creating new and relevant content on applicable subjects and delivering it on a regular basis and in a manner that is tailored to your business and geographic location is our forte at 1sixty8 media.
Contact us to learn about our solutions for building a website and providing ongoing content that is relevant to the customers you want to attract. We can free up your time and help you achieve a more-professional and consistent presence online!