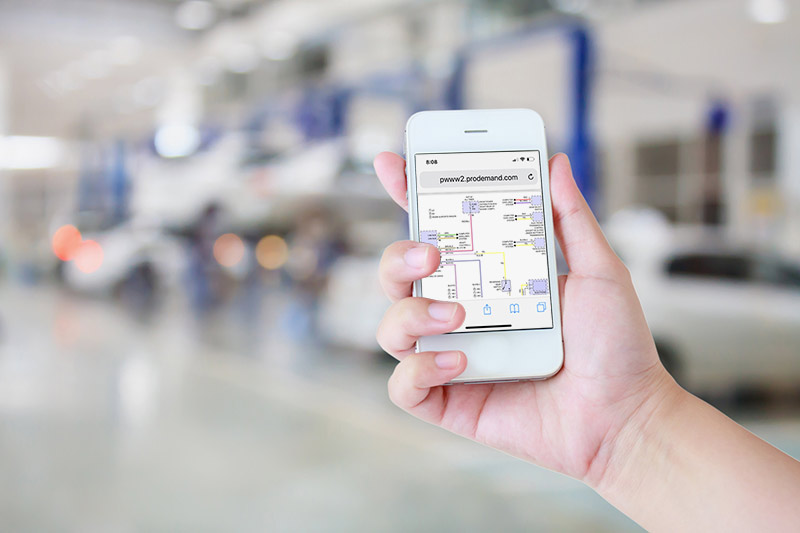 Having access to tools like Mitchell 1 ProDemand makes upgrading and enhancing your clients' vehicles more efficient. Imagine being able to look at wire color codes, vehicle assembly instructions, connector and component locations, recall notices, and technical service bulletins. Imagine how much time that information could save on a remote starter installation, head unit upgrade or backup camera installation. ProDemand delivers all of that, and much more!
What is Mitchell 1 ProDemand?
Developed by the same people that brought the automotive service industry the coveted Mitchell Repair Manuals, ProDemand is a web-based information solution that provides real-time access to wiring diagrams, service manuals, vehicle assembly instructions, component locations and much more. You can search the massive database by VIN or the year, make and model of vehicle to ensure the information is accurate.
Don't Waste Time Looking for Components
If you are a technician tasked with adding an amplifier to a vehicle, wouldn't it be nice to have a print-out of the exact location of the amp, along with all the wire color and function information? No need to guess whether midrange drivers and tweeters are in parallel or if they each have a dedicated amplifier channel. Perhaps a client has chosen a new radio, and you'd like to integrate the factory backup camera into it? ProDemand can tell you what wires to use and their locations
Speed Up Troubleshooting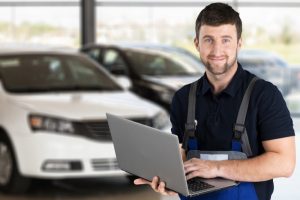 During the busy remote start season, most technicians rely heavily on information provided by their suppliers. What happens when a wire isn't in the pin location you expect, or a color doesn't match? ProDemand shows you the connectors, the wire colors and their functions. Techs can find what they need quickly, and get back under the dash to finish the job. There is no to need guess, make posts on Facebook and or call tech support.
ProDemand provides up-to-date technical service bulletins and recall information for the vehicle you search. Scanning these documents can save technicians hours when diagnosing vehicle functionality issues. Diagnostic Trouble Code information is also available. Techs can understand why a CEL light is on quickly and easily.
ProDemand Adds to Your Professional Image
Your clients may not like the labor rate at the local car dealership or automotive repair shop, but they are willing to pay it for professionals to work on their vehicles. When you are talking to a client about an upgrade to their vehicle, using ProDemand as part of the sales process helps convey that you are an expert in your field. Letting your clients know that you have access to the same resources as the dealership will increase their confidence in your abilities and services.
ProDemand Saves Time and Money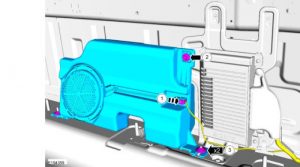 The Factory Service Manuals provided in ProDemand include detailed step-by-step procedures to remove radios, speakers, amplifiers and much more. Technicians can retrieve information on component locations and understand how to access them efficiently. Imagine saving 5–10 minutes on each car because you know where all the screws are for the door panels or dash trim!
If just one technician saves 1.5 to 2 billable hours a month using ProDemand, the product more than pays for itself. In most cases, each technician can save that much time every week.
Mitchell 1 ProDemand Is Always Available
Bless those folks who answer the technical support phone calls. That is a truly challenging job. Imagine being able to look up information on vehicles that nobody has worked on before, and do it on a Saturday afternoon at 4:30 without having to wait on the phone? ProDemand pulls information from its massive database of vehicles, including vintage information back to 1960, directly from their servers on an as-needed basis. The database is updated on a regular basis and is supported by vehicle manufacturers, so you know everything is accurate.
Upgrade Your Business with the Most Powerful Tool Available
ProDemand is a tool, just like a cordless drill, digital multimeter, RTA, router or table saw. Sure, you can live without it, but you can work much faster with it. For more information about making Mitchell 1 ProDemand a part of your mobile enhancement business, please contact us today.