(Note: 1sixty8 media owner Mitch Schaffer has owned Mobile Edge, a very successful mobile electronics retail store, since 1994. This store has routinely been named one of the top retailers of its kind in the nation and in 2010 was named the #1 shop in the entire US. It is important to point out that Mobile Edge does not spend one penny on traditional advertising. Their website and social media account for 100% of their advertising.)
I always talk to my clients about the "Big Sale." For me, the Big Sale has always been the one that we wouldn't have had normally, and it usually has nothing to do with a dollar amount. The Big Sale is the one that we worked hard to attract. It is the one that we acquired through marketing our business properly.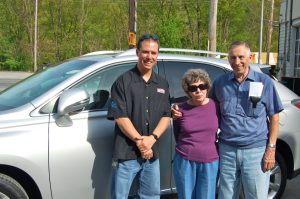 Great Website Attracts Clients from Far Away
At my retail store, Mobile Edge, we have had many Big Sales throughout the years. One of my favorites happened several years ago when a client drove 1300 miles to my store just to have us install a remote car starter. Although it was an otherwise routine sale, it meant the world to us. This couple trusted us enough to drive 650 miles, one way, based solely on our website and a brief phone call.
Website Delivers Big Results for Small Business
Recently, we made a Big Sale that rivaled this one. Several weeks ago, an e-mail came through from a person  living on Long Island (nearly three hours away from my store).  They had found us online and were impressed. They had a new vehicle and wanted a great system installed in it. We had several phone conversations with them and they  scheduled an in-store consultation.
We anticipated spending an hour or two with them to audition the products that we  spoke about. But on the day of the consultation, we were intrigued when two cars with NY plates pulled up in front of our store. One car was the vehicle we had spoken about, but the other one was unfamiliar to us.
It became immediately clear that the second car was the vehicle they would be driving home  in. They told us that the website and our great reviews had sold them on our company. The quality service they received on the phone was the icing on the cake.  They knew when they left Long Island for their three-hour drive to PA that they would be making a purchase at Mobile Edge.
And what a purchase it was! They spent close to $15,000 and chose the very best equipment that we offer.
Website Closed the Sale Before Client Arrived
I couldn't help myself from pointedly asking them why they would make that kind of a commitment (driving here with two vehicles) without even meeting us first. They told me that they felt like they already knew us because of our website. They liked the fact that we "put it out there" and shared our knowledge and our success, and even our failures. They read our reviews and  mentioned the professional way we handled one of our only negative comments. They loved the fact that we take our clients on a tour of our facility. They had been at several shops more local to them and constantly left with a bad taste in their mouths. When they found us online, something just "clicked" (no pun intended!).
 Economics of Web Marketing for Small Business
I'm uniquely positioned to understand the costs and expenses associated with both my consumer electronics retail store and with running an online visibility service. I know very clearly what it costs for most small, local businesses to effectively market themselves online. That sale would not have happened if it weren't for our website and the effective way that we use it to market ourselves. Without great marketing, these folks would never have even heard of Mobile Edge.
But it did happen, and the profit that my store saw from this one sale will more than pay for our online marketing efforts for over a year. The argument could be made that this is an isolated occurrence. It is not. We have clients who drive to us from out of state regularly. During the months of February and March 2014, we had an out-of-state vehicle in our bay every week. None of these clients would have done business with us normally because none of these clients would have heard of us if it hadn't been for our website. Our online presence is an invaluable aspect of our business.
 Odds of Success Stacked in Your Favor
If you know that you should elevate your online presence, I hope that this post will help to push you over the fence. Online marketing is different from any other type of marketing. There are no geographic barriers, and the marketing that you pay for this month will continue to pay dividends for many months, or even years, to come. When executed properly, investing in your company's online web presence is likely to be one of the soundest investments you can make. The odds are definitely stacked in your favor.
 1sixty8 media Can Help with Your Online Visibility
1sixty8 media can take your online marketing to the next level. We would love to have your business. Feel free to call or contact us at any time to discuss your current situation. If you already have a relationship with a great online visibility service, pick up the phone and tell them that you are ready to kick it into overdrive!