My clients know my story. I've owned a mobile electronics retail store for about 20 years. Mobile Edge is good at what it does. Really good. We have been voted one of the best in the nation for 6 years in a row and in 2010, we were the #1 shop of our kind in the U.S. But we almost closed our doors in 2006. Here's my story.
Riches to Rags
From the day we opened, we spent a lot of money on advertising. TV, Radio, Newspaper, Yellow Pages, Direct Mail. My store used all of it. This strategy worked well in the 90's. As time went on, we assumed it was continuing to work. Turns out it wasn't. When business slowed down, we tried to chase it by spending even more on advertising. This was a bad move. Less business and higher expenses spell disaster.
The Internet to the Rescue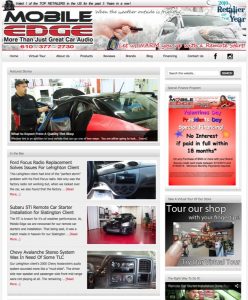 Luckily, I discovered online marketing before it was too late. In 2007, I took control of my website. I focused on providing useful information. I wanted my potential clients to view us as experts. I wrote articles about what we did. I documented some of our vehicle builds and created posts that help people buy the products that we sell.  I answered emails that viewers would send (even the ones from across the country).  Things began to change.
Part of our restructuring required that I drop much of our traditional advertising. Surprisingly, our decline slowed and then stopped. Within 18 months, our sales were growing again. I started to see the writing on the wall: Web-based marketing was where it was at.
Other Folks Started to Take Notice
Other interesting things started to happen. Industry leaders started to take notice. I was asked to speak at industry events about how I was effectively using the web. Other retailers wanted to know. I quickly became a well-known figure in the mobile electronics industry largely because of how I was promoting my store.
I was interviewed by news media about the articles I was writing. In one case, an editor for the automotive section of 12 regional TV station websites interviewed me about HD radio. I spent over an hour with this fellow on the phone. I only asked that a link back to my article be included in the copy he was writing. In the days after this went live, my web traffic was over 10 times what it normally was.  I could not have bought this type of PR.
Client Drove 1300 Miles Based on Our Website
Clients started to come to us from great distances.  When asked why, the common response was "We found you online and liked what we saw."  We routinely get clients from 100-200 miles away.    Perhaps the very best sale I every made in my life was a few years back.  A client called us from Indiana (my store is in Eastern PA).  They found us online and wanted a remote car starter for their Lexus.   I explained that we were likely over 500 miles away. The client said "No, you are 650 miles away, I already checked! I found your website, and read your articles. You look like the best and that is what I want."  We set up the appointment and a few weeks later, he and his wife showed up for their installation.  They drove 1300 miles round trip for a $500 purchase based only on my website. In the process, they drove past hundreds of other shops that they could have purchased from.  If this isn't proof that the web works for small business, nothing is.
Content Produces a Compounding Effect
Over time, things started to mushroom. I kept writing engaging content and leveraging social media. Traffic grew every month. New content seemed to have a compounding effect. Once it was written and published, it was there for good (not at all like a TV/radio/newspaper/direct mail promotion). It was working for me every hour of every day.  Content that I wrote in 2008 continues to pay dividends and attract clients today.
I completely cut out all traditional advertising in 2010 and rely only on our online marketing efforts and word of mouth advertising (anymore, this is really a function of social media). I have seen double-digit growth every year since 2010. We are once again a profitably store. Our employees LOVE working for me. I can afford great tools, a state of the art facility and the best training available. None of this would be possible without our website. It is likely that we would be out of business without it.  Instead we are thriving.  www.MobileEdgeOnline.com has become my company's most valuable asset.
Coming Full Circle
Last year I started 1sixty8 media to help other small businesses survive and thrive in today's challenging market. If I could do it selling consumer electronics, anyone can do it! It is my mission to help as many local businesses as I can. I know that sound like rhetoric. It's not. I truly care about small town USA businesses.  I understand the blood, sweat and tears that go into building a business.  I understand the daily frustrations that small business owners face.  In in a position to help solve one of those frustrations.
That Sounds Great. But…..
So if you have read this far you might be thinking "Sure, you did this all yourself so it didn't cost anything. I don't know anything about this stuff." First of all, I can 100% assure you that there was nothing cheap about learning how to market a local business. I've spent countless hours figuring out what works and what doesn't. I've attended many conferences and learned from some of the best. The amount of "sweat equity" that I have in this company is staggering.
You don't need to know how to do what I do. That's what I'm here for.  You are obviously an expert at what you do. All you need is the desire to grow and the commitment to do what it takes to spread your message. I'll handle the rest.
To learn more or schedule a no-charge consultation, please call or Contact Me today!