I started 1sixty8 media because I realized that many small businesses did not have quality websites (or any online presence for that matter). From my experience, I understand exactly how important this is in today's market. Whether you are an orchard that seasonally sells fruits and vegetables, a restaurant in a tourist town or a bicycle repair shop, your customers are going to be searching for what you do online. Having a great small business website is a key to your success.
For those business owners still thinking about or worried about their online presence, I compiled this list of 5 reasons every small, local business needs a great website. It's a pretty common sense list, but I'm hoping it might encourage those business owners sitting on the fence to pull the trigger and begin the process of starting their online marketing. I welcome all feedback so be sure to leave your comments at the end!
1. Your Customers are Searching Online for What You Do
I know – your company has been in business for 75 years. You made it this far without a website. I'd bet that your company didn't have a computer when it began. Heck, if it is 75 years old, it might not have had running water! But something caused your business to add indoor plumbing, and a computer. Technologies and times changed, and a need was filled. A website for your small business is no different.
At no time in history have things been changing so rapidly. The technologies you use in your business, the products you sell or the services that you provide are advancing quickly. So are your customer's buying habits – 20 years ago, the Yellow Pages were an absolute necessity for most local businesses; now, many business owners see the Yellow Pages as a waste of money. Ten years ago, people did their online research on their desktop or office machines. If they wanted directions to a store, they printed them out before they left their home or office. Today, they just ask Siri and, in seconds, they have directions, phone numbers and business hours right in the palms of their hands. They even have customer reviews attached to all of this so they can learn a bit about how others perceive your business!
Various studies show that up to 80% of all consumers are going online to research product purchases. They are looking for what you do or sell. Most would rather buy locally, but many buy from an online retailer because they cannot find someone local to do business with. This customer's business is there for the taking. Having a great small business website will put you squarely in their sights!
2. A Great Small Business Website Adds to Your Company's Credibility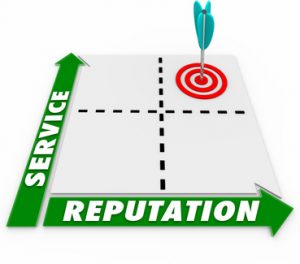 As I write this, I am the young age of 42. I remember when I was in my teens and my parents taught me to be a "savvy shopper." One of the things they told me to look for was the Better Business Bureau (BBB) membership sign behind the sales counter of any business I visited  (For those of you who have never heard of it, the BBB is an old-school ratings company of sorts for business.) For my parents' generation, this was a sign of credibility. If a store was not "accredited" by the BBB, there must have been a reason and it was a sign to avoid doing business there.
Today, I like to make that comparison to a company's web presence. Having a quality website is a signal to a consumer that you are a real business and that you take your business seriously. Not having a website is a signal that your company is an outdated dinosaur (sorry to be so blunt, but you are reading this for a reason. My guess is you don't want me to lie to you!).
Now, before you destroy me in the comments, I understand that anyone can put up a website and portray an image of quality. This is true, just like any restaurant can put a sign out front that advertises "World's Best Hot Wings." The important takeaway from this is that today's consumers expect a company that they do business with to have a website. The website enhances your credibility while, unfortunately, not having a site damages your credibility as a business.
This is the hard truth. I'm just the messenger!
3. Directions, Business Hours, Contact Information
Customers want immediate access to information. No – customers require immediate access to information. Today's consumer is not content to wait until getting to the home or office and pulling out the Yellow Pages. They are doing a quick search on their computer or smart phone. They want to know if and when you are open, what your phone number is, and how to get to you. If your information is not readily available, they will go to the next business on the list.
Having a quality small business website is a great way to make sure that this happens. It is also important to make sure all of your local business listings are complete and up to date. As a business owner, it is critical that your Google+ and Yahoo Local pages are current and correct. There are many other sites where you should have accounts, but those two are arguably the most important.    
4.  Brand Your Company as an Expert
Just having a web presence is not enough. It had better be a good one! In fact, having a bad web presence is worse than having none at all. A poorly executed website will turn customers away in much the same way a dirty, uninviting storefront will.
The truth is that customers want to buy locally. Most will even pay a little more to buy from a friendly face.  But today's customers need to be impressed. What they really want is to buy from a fair and honest expert.
The good news is that a quality, well-executed small business website can brand your company as an expert in its field. It can do this before the customer ever sets out to meet with you. Your web presence is unlimited. You can tell your story in your own way and take as little or as much space as you need to do so. There are no "column inches" or "30-second spots" online. You have a completely controlled environment in which to impress your prospective client. Are you going to WOW them, or are you going to give your competitor the opportunity to earn their business?
5.  Your Small Business Website is the Most Cost-Effective Way to Promote Your Company
I've saved the best for last, but you're probably thinking, "Of course you say this … you design and build websites for a living!" This is true – but you've read this far. Stick with me and I'll explain.
Let's first take a look at some traditional advertising, and then we'll look at web marketing.
Newspaper Advertising
With traditional newspaper ads, cost is based on the size of the ad. If you want to add something as "high-tech" as color, you can count on the cost skyrocketing. The ad runs one time and then it is done. You have to pay to run it again. The best way to gauge your results is if you offer a discount in the form of a coupon, which costs more profit dollars. On top of all of this, newspaper readership and subscriptions numbers are plummeting.
TV/Radio Spots
For TV and radio advertising, cost is based on the time of day that it runs and the stations or channel where it runs. Pay a lot and get great placement. Pay a little and get buried in the pre-dawn rotation. And don't forget the initial cost of production, which can be very expensive for quality spots. You pay every time the spot runs; when you stop paying, the commercials end. Measuring results is a difficult proposition. Oh … and then there's all the competition for eyeballs and ears. People are tuning out of traditional AM/FM stations and opting for satellite radio, Pandora, Spotify and even playlists on their iPods. Satellite and web-based "television" are cutting deeply into cable TV, while DVRs allow viewers to easily skip commercials. Does this sound like a place where your marketing dollars are well spent?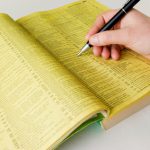 Yellow Pages Advertising
The cost of Yellow Pages advertising is based on the size of the ad and the market where the book is published in. As with newspaper ads, be ready to fork over a bundle if you want a big ad or something as simple as color! Your ad rep will talk about how the book is "in-house" for the year, but some studies show that over 75% of all Yellow Pages books distributed are never used even once. As stated above, consumers want information now. I suspect that more consumers carry a smartphone than carry a Yellow Pages directory. When was the last time that you opened a Yellow Pages directory?
Why Having a Great Website is Extremely Cost-Effective
A quality small business website admittedly does have an upfront cost. There is cheap and there is good and, like everything else, you get what you pay for. The great new is that these initial costs can be amortized over months and, in most cases, years. Most websites do not have "shelf lives." Although it can be costly to create a great site, the benefits continue long into the future.
Now, check this out: People who are on your website are probably thinking about buying what you sell or do – they didn't just stumble on your website by accident! They are either researching a purchase or searching for a place to buy. In other words, they are a hot prospect! Your ad or message is not thrown out there randomly and played in the background. If someone is reading your website, they have a need that they are attempting to fill. Simple as that.
It is important to understand that a website is not a "set it and forget it" proposition. You cannot expect to just publish a great site and sit back and reap the benefits forever. It doesn't work that way. You have to continue to add quality content if you expect to brand yourself as the expert or keep the attention of the search engines. Here's the really great news: Once you have a website, updating and maintaining it can be a very reasonable proposition. In many cases, the cost of maintaining a small business website can be less than the cost of just one Yellow Pages advertisement in one directory.
It is also important to understand that the content  you add today can pay dividends into the future. Not every piece of content that you add to your website will be a home run – like everything else in life, some content will be better than other. But if you are consistent, you will hit home runs from time to time, and maybe even regularly.
Here is the fun part: That content is there forever, continuously paying dividends to you and your small business. People searching for what you do will find it today, tomorrow, next week and next year, but you only had to create and "pay" for it once. See if your local newspaper can offer you that!
Conclusion and Shameless Plug!
It's 2015 as I write this. Your company cannot expect to compete effectively without a website. Traditional advertising is much less effective than it was just 10 short years ago. Your customers want information now and they want to do business with people they trust. Developing that trust by establishing and maintaining a small business website is a lot easier than you might think.
My company, 1sixty8 media, can make this a painless, even a truly enjoyable, process!  To learn more, give us a call at 1-855-4168-NOW (1-855-416-8669). We are very easy to talk to! If you're shy, simply click contact us.
I hope this article has made a compelling argument for why you need a small business website. Thanks for following along.