It's no secret that I love to work in my yard. Landscaping and gardening are two things that allow me to relax and, because I don't need to concentrate on what I'm doing, I'm able to think about other things. Today was mulch day: 9 yards of it dumped in my driveway, to be spread one wheelbarrow at a time. During one of my many breaks, I checked in on Facebook.
I sifted through all of the fluff and read a post from my friend (and client) Jon Kowanetz. Jon is a very successful mobile electronics retailer. He won Installer of the Year back in 2010, the same year my store won Retailer of the Year. The store he owns, Handcrafted Car Audio, won Retailer of the Year in 2013.  Very few people have won both.
It's a Sign …
Jon is an analyzer. He takes his time and looks at all of the angles. He questions things. He uses online resources to get feedback from trusted colleagues. At the moment, Jon is working on a new sign for his new facility. He has been struggling with the precise words that will go on this sign. He is questioning the colors, and whether the letters should be black with white outlines or white with black outlines.
Jon is doing the right thing. A sign is a tremendous asset for any retail store. It will be there for years to come and will be the first impression that folks have as they drive past or when they arrive at Jon's facility. It will continue to pay dividends for Jon, and he wants it to be perfect. To make sure that's the case, he's asking colleagues for their input to ensure this asset will be its best. I look forward to seeing the result!
Building Assets
Break time was over and I loaded up the next wheelbarrow of mulch … when it dawned on me: The content that we create for our clients is an asset as well. Most of what 1sixty8 media does for our mobile enhancement clients is an asset. We are selling our clients assets. I think I've known this all along, but it crystallized in that moment. Let's take a look at why this is true.
Definition of an Asset
Investopedia defines an asset this way: "A resource with economic value that an individual, corporation or country owns or controls with the expectation that it will provide future benefit." Content marketing fits squarely into this definition.
The content that we are building for clients has an immediate benefit that is realized on social media. We publish content to client websites and then push it out to social media. This can and often does provide some initial contact from interested buyers. But if it ended there, content would not be an asset.
Our content is optimized to be found by interested consumers when they search for a solution to a problem. When we publish content for clients, it will continue to work for them for years to come. Content pays out over time and it just keeps on paying. Kind of like Jon's sign.
Definition of an Expense
Investopedia defines an expense as: "The economic costs that a business incurs through its operations to earn revenue. In order to maximize profits, businesses must attempt to reduce expenses without also cutting into revenues."
Let me ask you this: If you have something that produces continuous, positive results for your business, would you attempt to reduce it? Of course not. You would look to add more and more of it so it helps to grow and strengthen your business. A cornerstone of any successful business is increasing assets and reducing expenses.
Here's Your Sign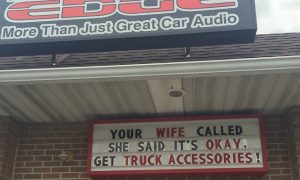 I would submit to anyone reading this that content marketing is clearly an asset for your business. It is something that you pay for once and own forever, and it pays for itself over and over again. A wise retailer will see the value in both a quality website and the ongoing content that is published to it. If you are a wise retailer, you might want to find a company that can produce great content for your company. If you are a mobile enhancement retailer, you might want to contact 1sixty8 media.