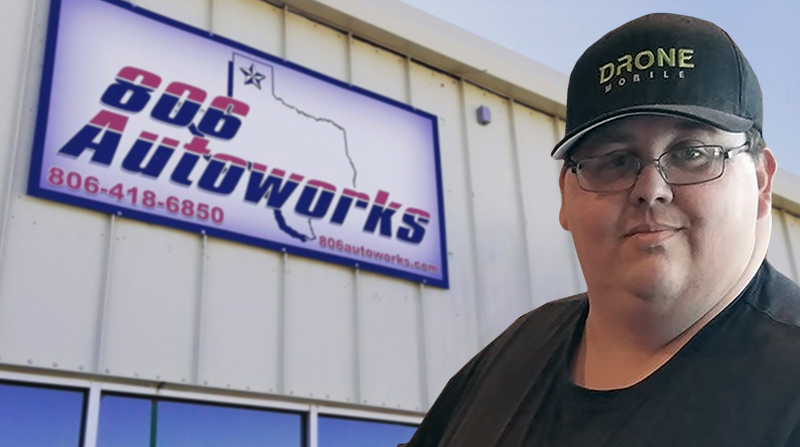 Join us as we look at a recent interview with Bryan Turvaville, owner of Amarillo, Texas's 806 Autoworks. Find out what the 1sixty8 media content marketing program has done for them.
1sixty8 media: How did 806 Autoworks come to be?
Bryan Turvaville: I founded 806 Autoworks in October of 2016. My wife and I had been discussing this opportunity for almost a year. At the end of July 2016, my grandfather passed away. Nearly two months later to the day, we said goodbye to my grandmother as well. With their passing came a new opportunity for my wife and me—my dad inherited everything they had, and he passed along enough money for us to start up this small business. It all happened quite quickly and we had to scramble to get ready for remote start season, but we did it. Thanks to a late start to winter and some hard work, we officially opened our doors on November 14, 2016.
1sixty8 media: Could you tell us about your marketing plan for 806 Autoworks?
Bryan Turvaville: Since this was an entirely new business, I decided that I had to separate myself from every other shop here in Amarillo. I chose to focus on something that is common to all of my customers: Google. When a consumer wants to know about a shop, business, service or product, they turn to Google. I focused all my efforts on my online presence. I wanted to make sure that my website looked professional, and conveyed my mission and standards of service. I invested the largest chunk of my marketing dollars in making sure I had that website. I looked at many different website solutions that focus on our industry. 1sixty8 stood out as the only one that could offer the website and the content I wanted to meet my goal.
My next step was to focus on building my social media presence. We live in a connected world, so I needed to tap into Facebook, Google+, Yelp and Instagram to get 806 Autoworks noticed. I have not focused on brands or product lines; everything I do is branded 806 Autoworks.
I executed highly focused marketing campaigns on Google and Facebook. Manufacturers and friends in the industry shipped me products for giveaways and contests. Within a few weeks of opening my doors, I was showing up on Google and reviews were coming in. I was very aggressive in the beginning stages to make sure that I had a powerful, if not the strongest, online presence in the Texas Panhandle. Subsequently, I am now the only Google 5-Star–rated shop in Amarillo, Texas.
1sixty8 media: Website hosting companies claim their clients can build their own websites. What led you to seek out a professional company?
Bryan Turvaville: One of the many hats that I wear daily is being the deacon of Technology at Bell Avenue Church of Christ, here in Amarillo. My job duties there include maintaining all the technology, from computers all the way through our website. I had previously built several websites in the past, including the website my church used. I knew the amount of time that goes into these things and the skill involved in making a website look like it should. With the newfound and vast responsibilities that were placed on me as a business owner, I knew that I didn't have the time or resources to create a website that would do what I needed. Seeking out 1sixty8 media was the only option for me.
1sixy8 media: Why did you choose 1sixty8 media?
Bryan Turvaville: 1sixty8 media provides a unique product. It is industry-specific and extremely high quality. It offers different solutions to fit as many different budgets as possible. Building a website and content for the website is not easy. It takes skilled people to put together a truly professional website. Many companies out there can build great-looking sites, but to have a company that understands my needs—that is perfect. The staff at 1sixty8 media are members of the mobile electronics industry. This gives them a unique perspective, since they also know what consumers are looking for. I am not sure how you can put a value on that, but 1sixty8 media has and has nailed it.
1sixty8 media: What do you feel is the most unique aspect of 1sixty8 media?
Bryan Turvaville: The staff at 1sixty8 media are uniquely connected to the industry. What more could you ask for? 1sixty8 media makes it easy for me to run my business and not worry about the performance of my website.
The content that the team at 1sixty8 media creates is fantastic. They understand what I need and what my customer wants to see. The website is a bonus. Of all the companies out there, only 1sixty8 media could provide a truly complete solution for web development and web presence.
1sixty8 media: What changes have you seen since launching your 1sixty8 media website?
Bryan Turvaville: Unlike many peers around the country, 1sixty8 media has been with me from the very start. I built my business around the quality that the website offers and the presence it creates online. Many of my customers have specifically mentioned they were impressed with the site and the work on it. If I hadn't invested in the site, I am not sure where I would be or if my online presence would be effective.
1sixty8 media: Has your relationship with 1sixty8 media helped with other marketing efforts?
Bryan Turvaville: It has created a thoroughly professional site that I can send my customers to. I am not embarrassed for customers to see the content of my site and feel that it informs them more than any other shop website in the area.
1sixty8 media: What words of advice would you give to a fellow mobile electronics specialist retailer on doing business with 1sixty8 media?
Bryan Turvaville: Do it!!! Research your options, and you will see that 1sixty8 media is the only complete solution. Website design can be tricky, and making sure your site is optimized to provide relevant and timely information can be downright confusing. Invest the money and save the time for something else that will make you more money. This website will pay for itself in the long run.
1sixty8 media: Would you like to add anything?
Bryan Turvaville: 1sixty8 media has made getting a website easy for anyone in the industry. They have clear-cut programs that are very affordable. We have to face the fact that online is where we need to be marketing. I could not be happier with the results I have seen.
806 Autoworks is my dream, made possible by my grandparents, my dad, and the support of my wife and family. I do not take for granted the blessings that I have received. It pushes me to work harder to be successful in this endeavor. I know deep down that I could not have made it this far if I hadn't invested in my online presence. I know that 1sixty8 media has provided me with a product that will allow me to grow and be successful as my business grows. I couldn't ask for a better company to partner with. My life is blessed. My company is blessed. My family is blessed. 1sixty8 media has been a big part of making sure all that has happened.